DIK Volunteers are HOT!
While their bodies may not be as buff as they used to be, the commitment is still as strong. While others were complaining about the 43 degree heat, this fine body of men from RC Keilor, Melbourne, Port Melbourne, West Footscray and Wyndham were loading a container for Timor Leste, the first one to be shipped in 2014.
It's full of new beds that will equip a new tourist facility on Atauro Island near Dili and supplement some orphanages bed needs in Timor Leste.
While we have the beds, we still have to ship the container so $8000 needs to be raised to get it there. Your contributions can help. For more information contact Bob Glindemann 0418 102702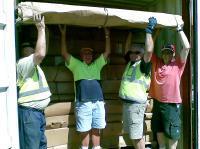 Share this with your friends